Create your scent - In person workshop
Regular price

$107.00
Sale price
Share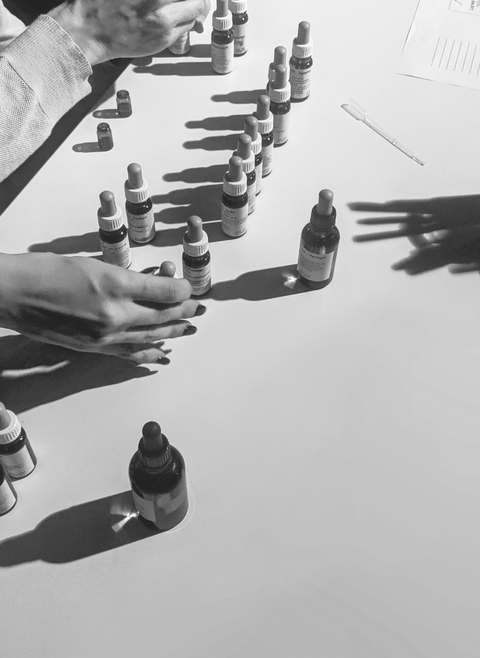 An interactive
in-person

workshop to learn about olfaction, explore beautiful perfumery materials and compose your own unique fragrance.

Explore the physiology of scent, learn new scented language and discuss the olfactory pyramid.

Evaluate materials from the different scent families and learn a creative composition method.

Create your very own unique perfume using a professional technique and high-quality perfumery materials.

You can download the calendar overview for 2023 here and 2024 here.

Please contact us at info@miskeoparfums.com for private group bookings.
GOOD TO KNOW
∙Level: Beginner, No prior experience
∙3h workshop, incl. 15 min break
∙The maximum capacity for the event is 8 people
∙Takeaway: a 10 ml perfume spray of your own unique scent
∙This workshop is offered in English
∙Unfortunately our studio is not wheelchair accessible.
ONLINE Details
A kit of 24 high-quality perfumery materials is included in the price of the online booking, as well as a 10 ml perfume spray, perfume blotters and a course booklet.
The booking closes 2 weeks before the event to allow for material shipping and delivery.
A link to attend the session remotely will be sent to you a couple of days prior to the event.
We would like to remind attendees that a quiet room and a headset with microphone improve the experience for everyone.
IN PERSON Details
The workshop is hosted in person in our studio in Berlin.
You will smell many materials during the workshop, please do not wear anything too strongly scented, not to interfere with your experience.
We provide a course booklet and cold/hot drinks.
CANCELLATION
We can only accept cancellation at least 48 hours in advance for In person attendance, or 2 weeks in advance for Online attendance.
We are happy to reschedule your booking if you cannot attend your chosen date.